On Monday, 25th of November, first avtions took place in Tunis, Bremen (Germany), Mainz (Germany) an Wiesbaden (Germany) – further actions are planned for the coming week during the conference of interior ministers of Germany in Osnabrück. A Hearing with a refugee that has been resettled from Choucha to Germany is scheduled.
In Tunis the protest was carried out by 45 refugees from the desert camp Choucha – 30 arrived directly from Choucha, 15 had already bin engaged in the Sit-In for the past 6 months in front of the UNHCR-offices in Tunis. Their protest started at 10 am, an hour later one of the activists coul pass over the open letter to a representative of the German Ambassy. During the conversation the representative prooved not being very enthusiastic about the cause of the visit. She referred to the Syrian refugees, that had to be prioritized in the resettlement programme. But she accepted the open letter and promise to forward it to Berlin. At the end of the conversation, she wished the refugees succes. The atmosphere among the refugees was happy and satisfied, as they had been able to talk to a representative of the German ambassy, which had been denied to them in previous attempts.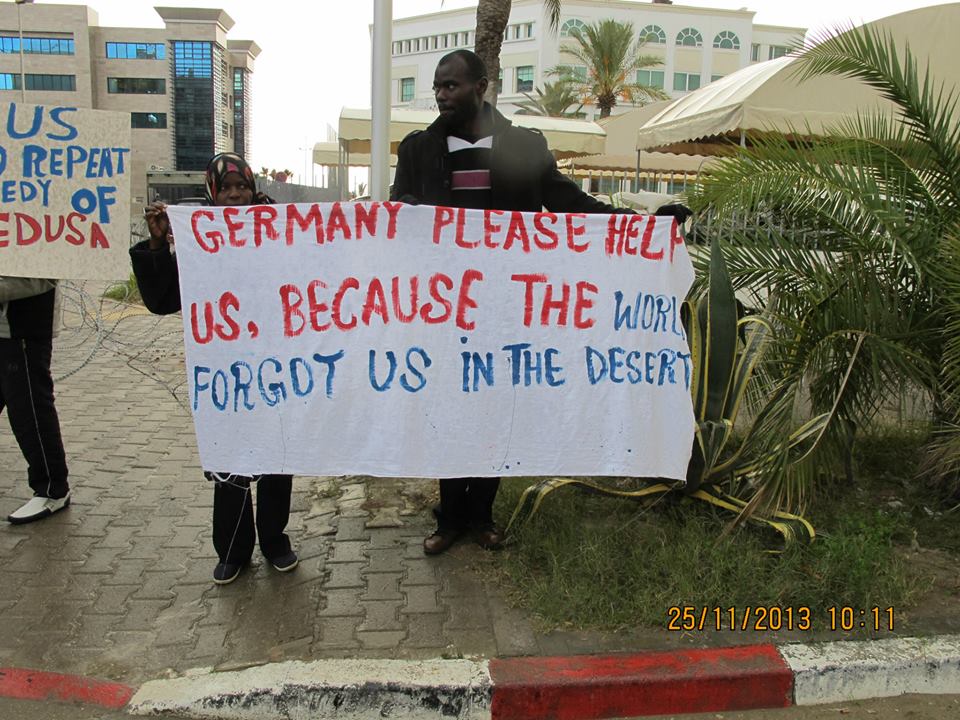 At the same time in Mainz and Wiesbaden, the capitals of two federal states of Germany, a couple of activists from different organisations handed over the same open letter to representatives of the federal interior ministries, pointing out the urgent need of further resettlement slots for the remaining persons in Choucha.
In Bremen, another feder state, a small demonstration took place in front of the building of the Interior Senator. At the beginning the open letter and fotos from Choucha were handed over to the Interior Senator in person. A personal conversation was set for next week. To the public the development of the Choucha Camp since the Libyan crisis was explained. Afterwards a refugee that had formerly lived in Choucha and has been resettled to Germany in 2012, talked about his very exhausting flight from Eritrea, his 4 years in Libyan prisons and how he was able to get to Germany. Furthermore a representative of the Lampedusian refugees in Hamburg spoke as well as a representative of the refugee council Bremen. As the 25th of November was the international day against violence against women, an appeal published by the group "Women in Exile" was read out loud, broaching the issue of women and children in refugee camps.